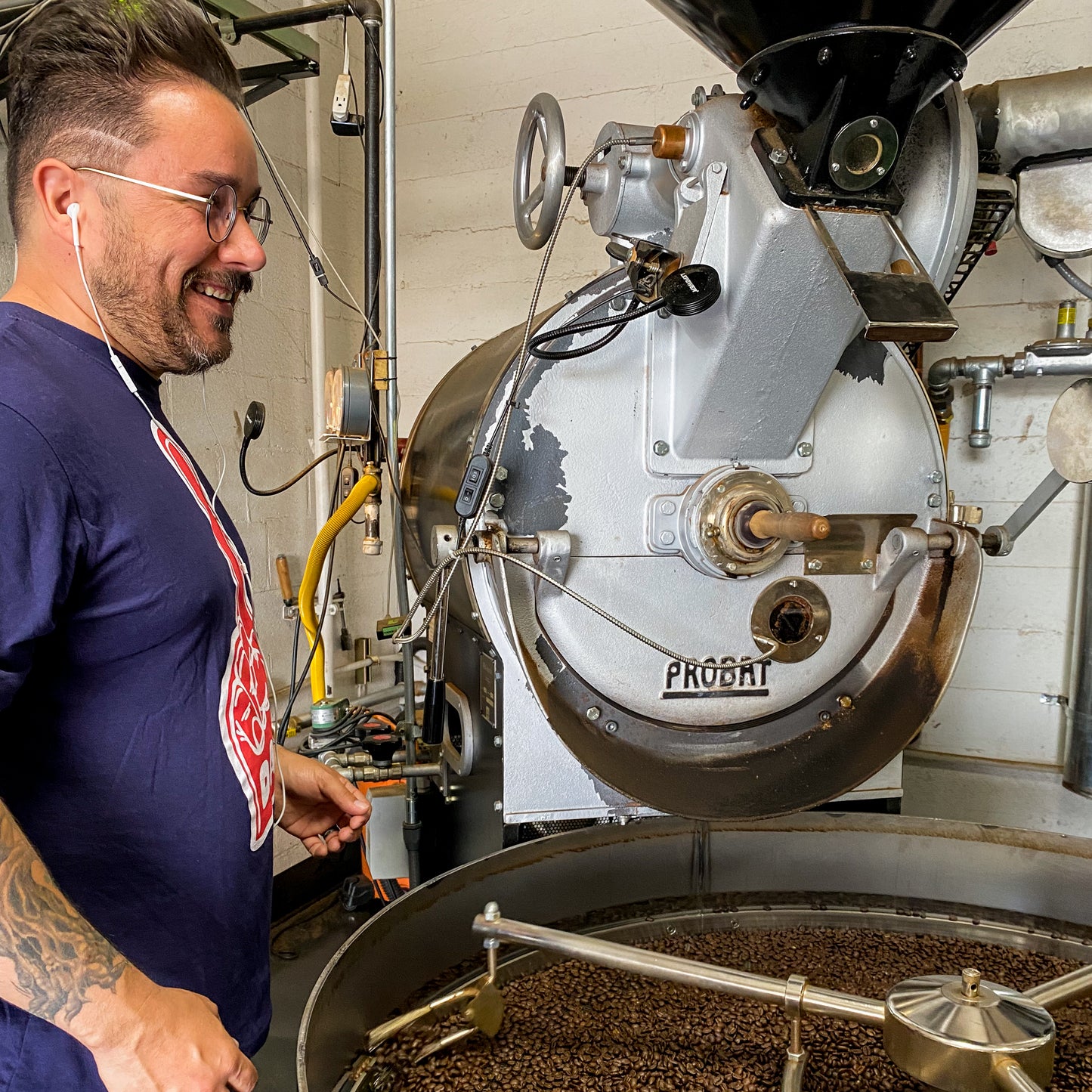 The year was 2012 - we were at a great season in our business. For several years, we served another roaster's coffee and had many fans that would come simply for the coffee alone. However, six years in, we were at a critical point in our business. The only thing that we created ourselves were our pastries at our Cannon Beach location with our main product being our preparation and service model. We were also getting a lot of questions from our customer base concerning where the coffee came from - especially in a time where the "farm-to-table" conversation was at the forefront of a lot of people's minds. We felt the strong desire to go deeper and have a better connection with not only the wonderful people across the counter, but with the wonderful people across the borders that grew our beloved coffee.
We started researching what it would take to roast our own coffee someday, and we decided that we would pull the trigger and buy me (Evan) a roaster to practice on. If, for some reason, it tasted just awful, we would go back to basics. As it happened, magic was coming out of the drum! Hallelujah! We began doing blind taste tests with our customers (with their permission of course) and dialed in our espresso blend. Then, on July 1st, 2013, Dapper and Wise Roasters put out it's first bag of coffee! 
Back then, we only had four origins of coffee that we were roasting: Mexico, El Salvador, Guatemala and Brazil. I went from being a full-time barista, to being a full-time head roaster for, at that time, our three cafes! I'll be the first to admit that it was tough and there was an element of artistry involved. This meant that I was extremely curious how the customers perceived our new product. It was nerve-racking in the slightest! All things considered, the new coffee program landed so well with customers that we became busier than we had ever been. We began to make connections with coffee producers across borders and formed some dear friendships! On top of that, as we continued to visit our new friends, we were able to do what we sought out to do in the first place, to deepen our relationships.


At Insomnia Coffee Co. and Dapper & Wise Roasters, we are constantly attempting to build bridges and understand how to better create a place of belonging for ALL we serve, and all who serve us. This, in theory, is being both Dapper and Wise. Salud! 
- Evan