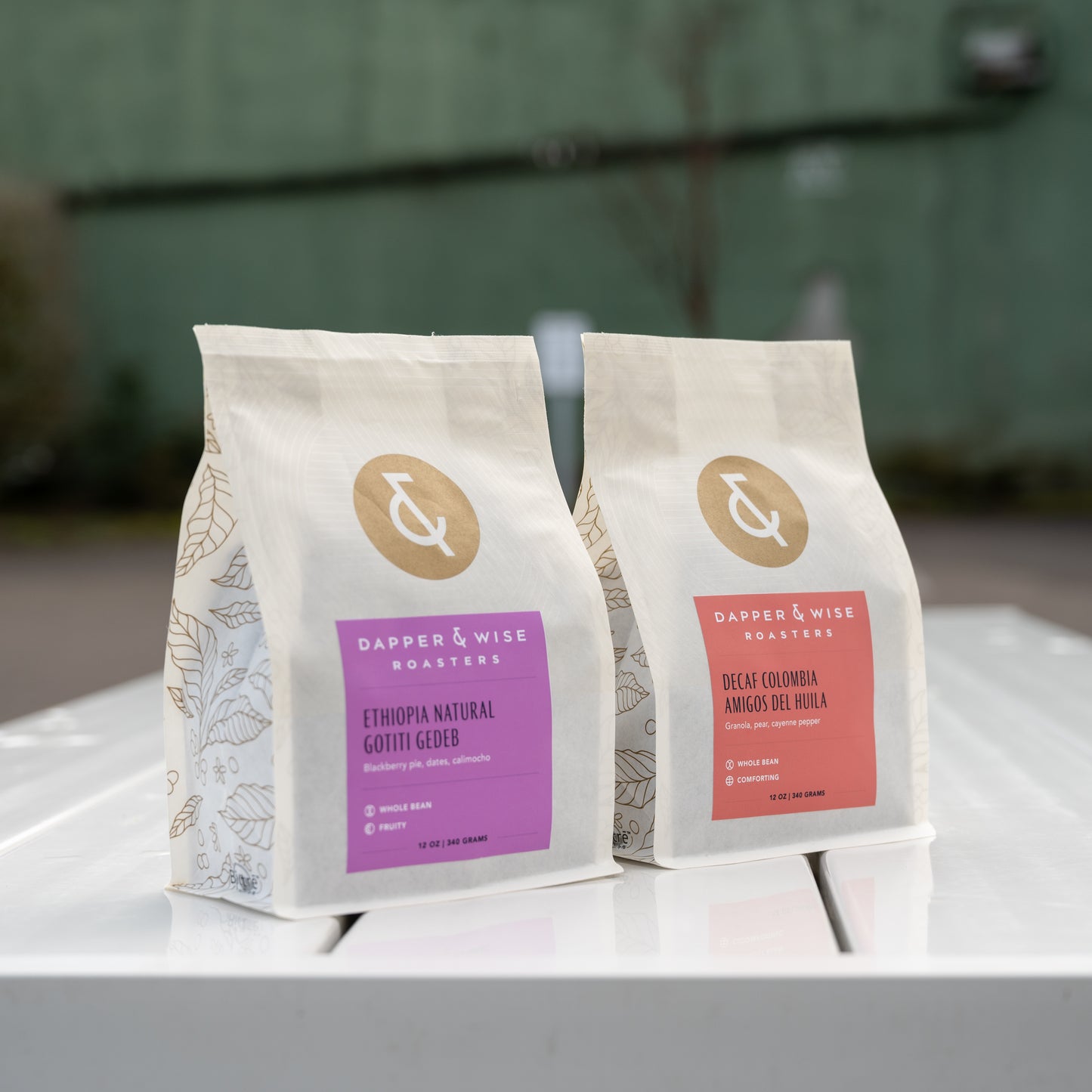 Ethiopia Gotiti Gedeb and Decaf Amigos del Huila
And just like that, February is almost over! We've got two new coffees welcome into our cozy cabin, and to help you push back that bitter cold that seems to just want to hang on.
Welcome in, new natural processed coffee from high up in the mountains of Ethiopia; Gotiti Gedeb Lot 3. Close that door behind you, it's cold out there! A late addition to our winter lineup, sweetly stepping in to perk you up for those chilly mornings with a gentle, fruity kick. This coffee has notes of blackberry pie, dried dates, and a little bit of red wine and cola (or as some may call it, a calimocho). This coffee is great for the connoisseur who looks for a lightly roasted touch and delicate flavors.
Already cozied up in the corner, hello old friend! We're welcoming one of our favorite, most reliable decaffeinated coffees – Colombia Amigos del Huila –  back into our humble abode. This coffee is a great, salt-of-the-earth kind of comfort in your cup. Cocoa, granola, and a hint of cayenne, you may be reminded of an Aztec mocha from Insomnia Coffee Company! Overall, a solid cup of decaf joe that features some of our favorite Colombian producers like Darabiel Osorio and Yamid Quinayas.
Let's talk about coffee transportation (or even any type of goods transportation). We often hear about coffees grown 'high up in the mountains of Ethiopia' but how does it get down from these high altitude farms? There's not much in the way of infrastructure and roads in these parts, so oftentimes coffee producers will literally carry their day's harvest in a bag on their shoulders down the mountains to be collected and brought to a processing plant. If they have more than a bag to bring, donkeys can help, but otherwise it's up to the farms to safely bring their product down the precarious journey.


As roasters, every year our jobs as a whole get a little easier with developments such as vacuum batch loaders to move green coffee up to the 7 foot hopper, automated bag sealers, assisted lifting technology, and more efficient and technologically advanced roasting machines– many roasters typically have it pretty good! It's important to keep in mind that we only handle the coffee at the tail end of its long journey; there's no fast, easy way to grow coffee beans. All of the hard work that is put into tending any crop, processing, and transportation all develops much slower than the 'finishing touch' technology in consumer countries. Here's to supporting producers and pursuing sustainability within the wonderfully complex world that is coffee! 
Until next time,
-Jer Packard, Roastery Manager


If you were set up with a recurring order, we will transition you straight into its new counterpart. Let us know your thoughts by using our contact page.
If you'd like to manage your recurring orders, please visit the following link: https://dapperandwise.com/account/login, or email roastingstaff@dapperandwise.com.