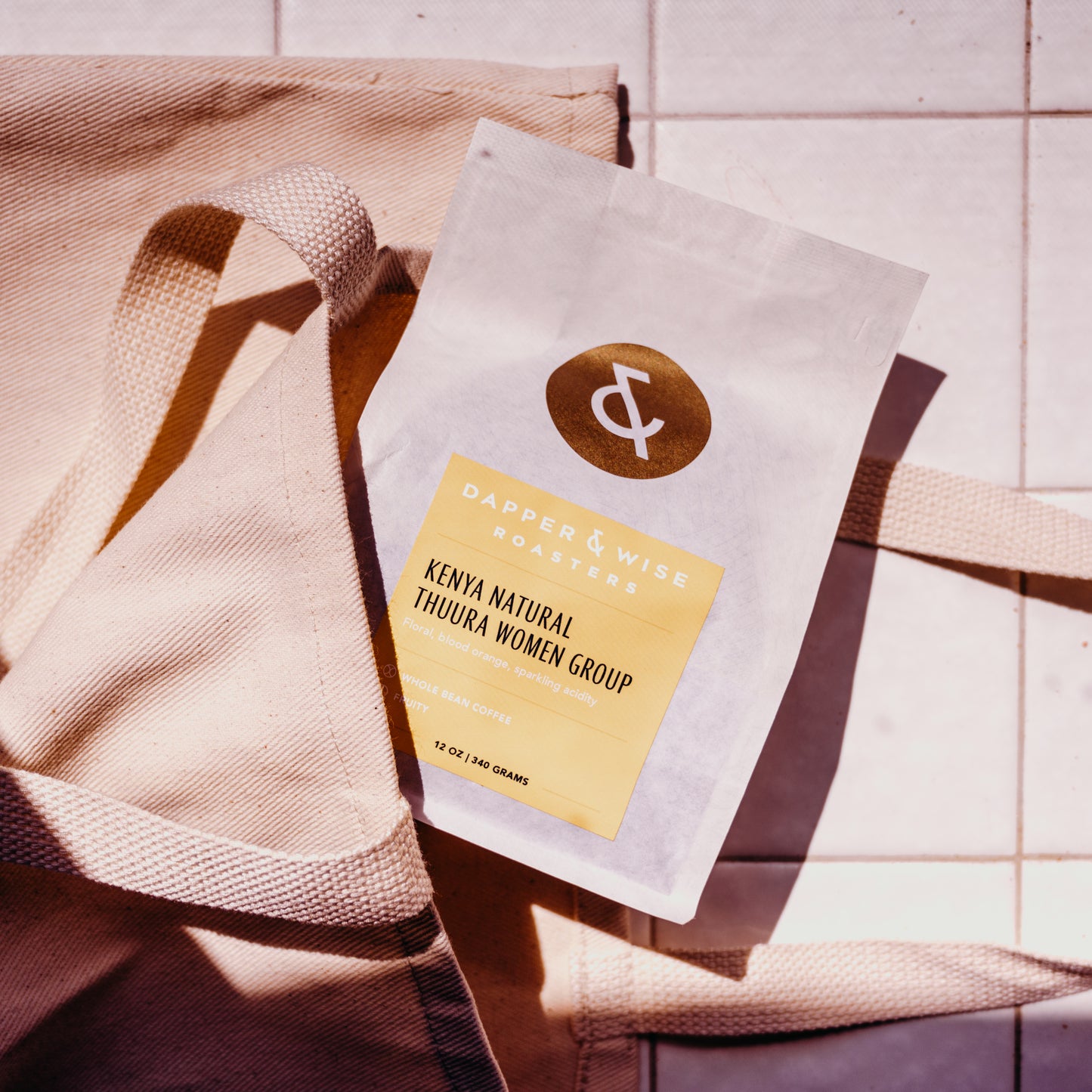 Kenya Thuura Women Group Natural
It's a great day all around when we get to start playing with a new Kenya coffee here at the D-dub roastery. You know, we all have that thing in our lives - whether it's a hobby (like skateboarding), a cute doggo (like my dog, Shredder), maybe a cat (like my li'l Jinx), or a beautiful old coffee roaster (like our Probat UG22).
(Pictured: Shredder sportin' the D&W bandana)
I'm talkin' about that thing that's not only amazing right off the bat, but the more time you spend with it, the more you learn about it, appreciate it, and love it. For us at the roastery, these Natural processed coffee beans from the Thuura Women Group in Kenya are just that. This one is sparkly and fruity and everything else that we've learned to love about Kenyan coffees, and we're stoked to share it with you. 
We purchased this coffee from Jamii Coffee, our #1 favorite Kenyan coffee importer here at D&W. Jamii partners up with a coffee farmer by the name of Charles Mutwiri who, in 2018, began this project to help women earn an income through coffee farming. The group now has over 70 members and is registered as a women self-help association, many members of which are widowed, divorced or abandoned by their husbands. Unfortunately, in many cases in the coffee supply chain, women do not get compensated fairly for the work they do– but in this case, Jamii Coffee is able to get the money directly to the women who grew this delicious coffee for us. The coffee we present to you today is this group's first ever harvest! It is amazing and we are lucky to have it, and humbled to share it with you. :')

Click here to add this brand new roast to your cart now.
Until next time,
-Joey Dolin, Roastery Manager
If you were set up with a recurring order, we will transition you straight into its new counterpart. Let us know your thoughts by using our contact page.
If you'd like to manage your recurring orders, please visit the following link: https://dapperandwise.com/account/login, or email roastingstaff@dapperandwise.com.