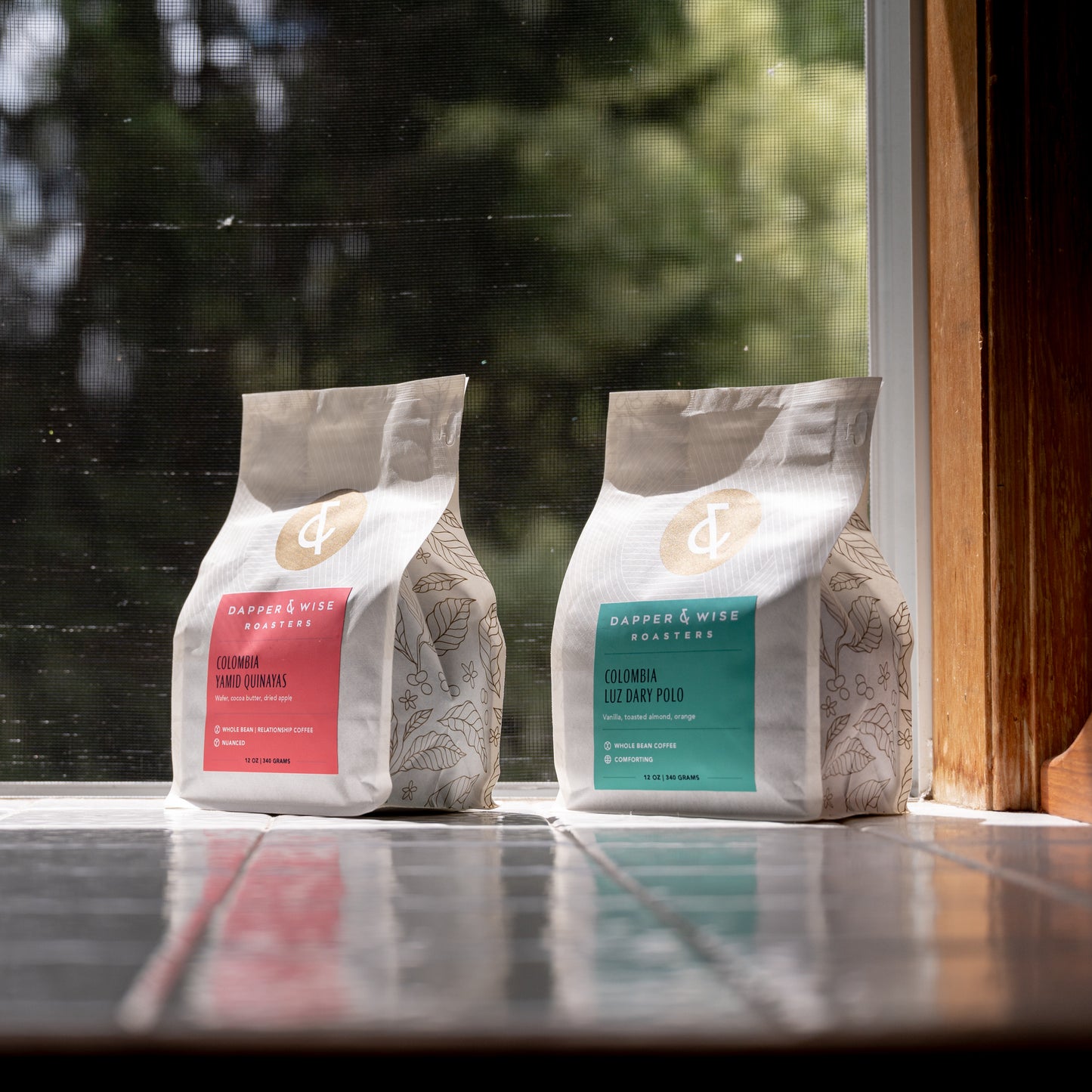 Colombia Luz Dary Polo
Cool announcement this time around with a brand new coffee to the D-dub lineup: a delicious Colombian coffee, produced by Luz Dary Polo and brought to us by one of our favorite suppliers, Shared Source! 
Luz Dary Polo is a member of the Los Guácharos producer group, and if that name sounds familiar to you, it's because we've been purchasing coffee from one of their members, Edilma Piedrahita, for years now. (Edilma's coffees though - if you know, you know.)
Luz Dary Polo's coffee is super balanced and makes a great addition to our comforting coffee lineup. Not too bright, not too light, not too much anything. But! It's got everything, and it's all just perfectly balanced in that cup. If we had to choose three ways to describe it, we'd go with vanilla, toasted almond, and orange. It's sweet, it's creamy, it's filled with those comforting sugar browning notes that go great with or without milk, all rounded out with a touch of acidity to tie it all together. 
Yes, in bean form, Guatemala Lirios de Belén will now be off our menu. However, we stocked up on a bunch of these in Swift Cup instant coffee form! If you are yet to dip your toes into the world of ✧・゚: *✧・゚:* specialty *:・゚✧*:・゚✧ instant coffee, now may be a good time to belly flop right in!
Today's news is a double feature! Like a sequel, but both at the same time, and actually not quite the same story line either. So not really a sequel, but it is another coffee! The Luz Dary Polo is not the only fresh crop Colombian coffee you'll find on our shelves, because we are bringing back one of our all time favorites, Colombia Yamid Quinayas.
This coffee is a stellar example of what we mean by 'nuanced'. Sip this one slowly, let it cool down in your cup; it's got a story to tell, and it's worth getting comfortable and enjoying the ride! We are grateful to be connected to this coffee and producer through our importing partner Shared Source, and we are stoked to invite you into the story at the other end of the supply chain as the final coffee sipper <3
Until next time,
-Joey Dolin, Roastery Manager
If you were set up with a recurring order, we will transition you straight into its new counterpart. Let us know your thoughts by using our contact page.
If you'd like to manage your recurring orders, please visit the following link: https://dapperandwise.com/account/login, or email roastingstaff@dapperandwise.com.