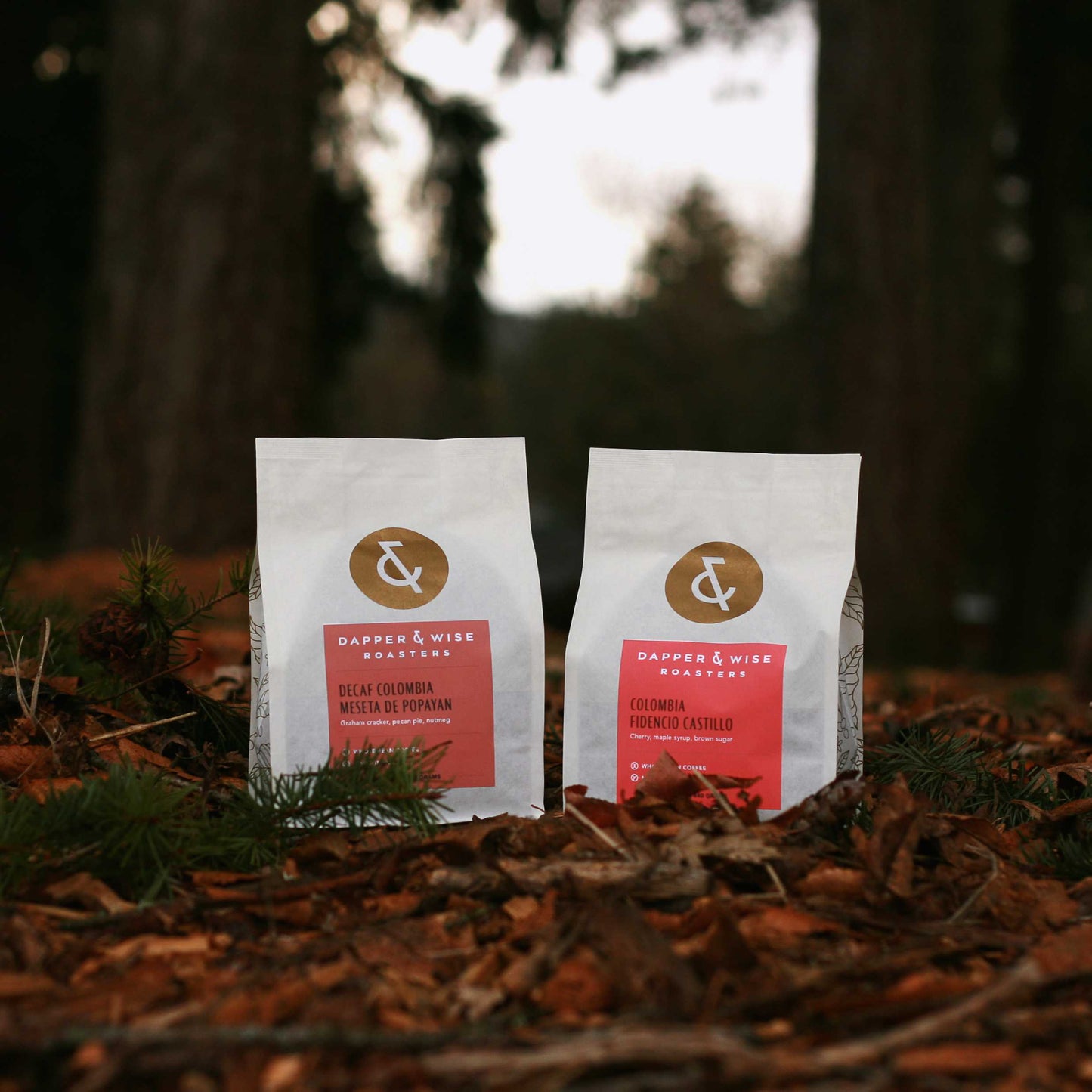 Decaf Colombia Meseta de Popayan & Colombia Fidencio Castillo
Hello hello! Today is a post for the real coffee connoisseurs, the ones who don't just drink coffee to get out of bed in the morning, the ones who are throwing down mug after mug of that good old bean juice, not for the caffeine addiction slowly taking us all, but for something even wilder - the flavor. That's right, we're talking about Decaf Coffee. At Dapper we have prided ourselves on having, and I quote, "actually pretty dang good" decaf coffee, and it's one of those things that people typically don't put much thought into, but I do!

Some of the very important distinctions that make a good coffee are the source and the processing method. When sourcing as with any other single origin coffee, we try to find a balance between high quality specialty coffee and supporting small family-run operations (smallholders) throughout the importing process. I could go on writing a whole new article about our selection processes, but I digress!
The other important feature of any coffee is the processing, and decaf has a few different methods. You may have heard terms such as EA, Swiss Water, Mountain Water, etc! Today we'll dive into one of our favorites, Ethyl Acetate(EA)! Most people see the term Ethyl Acetate and think "whoa - chemicals? Not in my coffee!" but the truth is, everything around you is chemicals! Chemistry is what we use to describe the building blocks of every plant, animal, and carbon-based construction in and out of our lives!
 Even better, the compound we describe as Ethyl Acetate isn't even as chemical-y as you might think, as it's made from a very simple process of fermented sugarcane combined with acetic acid (found in vinegar). Combined, this makes Ethyl Acetate. Fun fact, this is the primary compound (or ester) found in both beer and wine! Coffee is filtered through this compound a few times since it binds with caffeine (also a chemical) and then washed clean with steam and re-dried. All this to leave you with a tasty coffee bean with 97% less caffeine!
This week we're launching a new EA Decaf, our Colombia Meseta de Popayan along with another new Colombian coffee, Fidencio Castillo. Try them both side-by-side and see if you can tell which one is decaf by taste! It might be harder than you think!
Until next time,
-Jer Packard, Roastery Manager


If you were set up with a recurring order, we will transition you straight into its new counterpart. Let us know your thoughts by using our contact page.
If you'd like to manage your recurring orders, please visit the following link: https://dapperandwise.com/account/login, or email roastingstaff@dapperandwise.com.