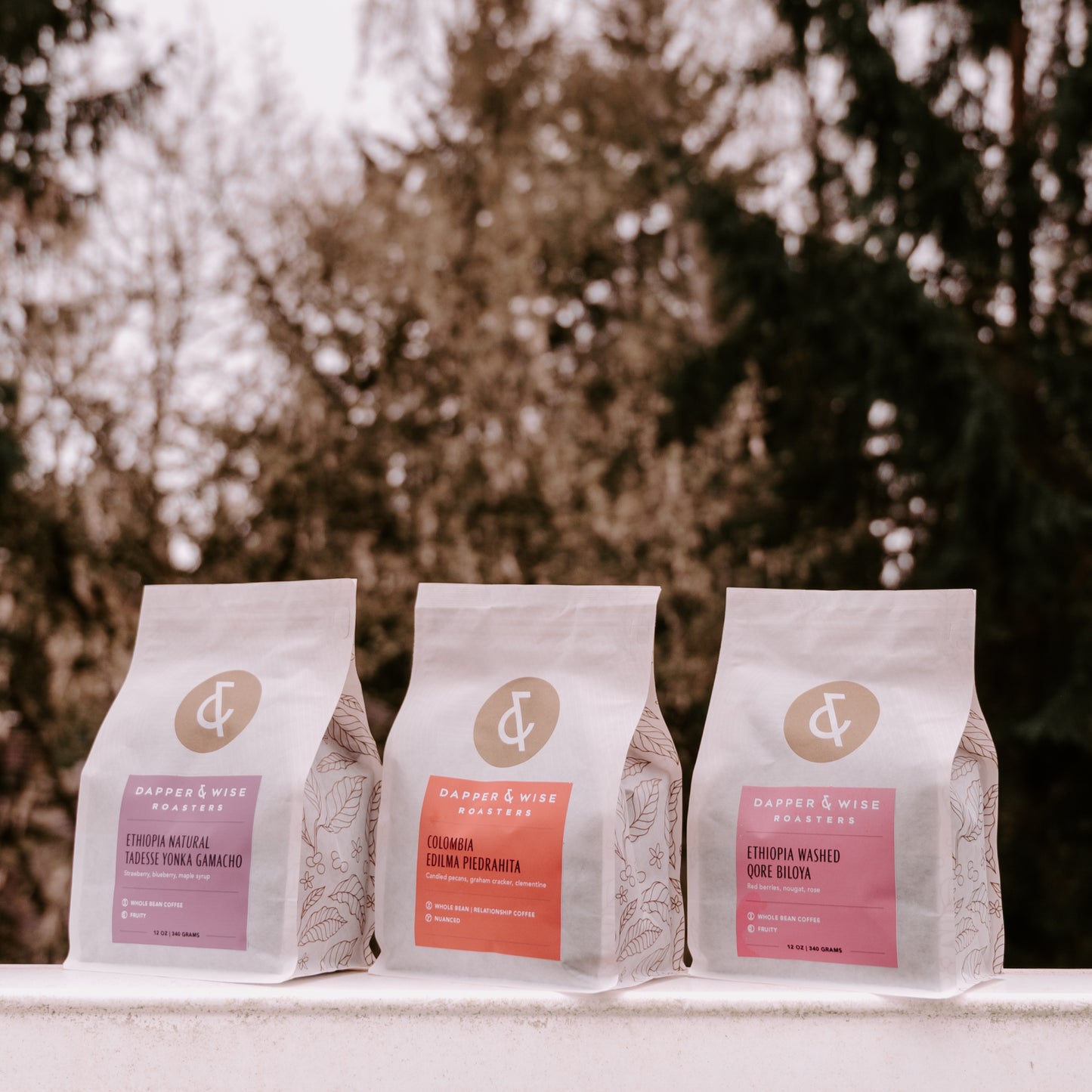 New Ethiopias and Colombia Edilma
Time to grab your cup of joe, sit yourself down, and read your Cup of Joey :)
The entire company is STOKED to get Edilma Piedrahita's coffee back on our menu once again. This name may be familiar to some of you who have been joining us on our coffee journey for some time (thank you, we love you!), but for those of you who have not yet met Edilma's coffee, we are so honored to introduce you. Today (4/5) is the official launch date of this year's crop, so be sure to jump on it!
Now time for the sad news: As we say hello to Edilma, we must say goodbye to Yamid Quinayas. Don't worry though, we'll be sure to get more of Yamid's coffee next year because this coffee is steadily becoming a crowd favorite.
If you're one of those coffee people who's really into Ethiopian coffees (is this not all of us?) then check this out!
As we've roasted through the last of our washed process Damo Shanta Golba, we've now moved straight into our washed Qore Biloya. I've recently seen this coffee being offered on a couple other roastery's menus, and so I did what any other coffee roaster nerd would do - I bought some bags to see what I can look forward to workin' with! We've got some (friendly) competition for sure, but I can promise you that the D&W roast will be up there with the others, and always with the goal of doing justice to all the hard work that helped bring this quality coffee to our roastery. We hope you love it!
In addition to all this, it is getting time to say our goodbyes to the fruit bomb that is Ethiopia Natural Bensa Screen 13. For those who have had this coffee, this may be some very sad news. "Screen 13" refers to the very  ~ smol ~  bean sizes, and personally, I will miss seeing those cuties around the roastery, not to mention the delicious cup of coffee they create. But not all hope is lost, for, beginning this Thursday (4/7), we will be moving straight into a different (and also very delicious) natural Ethiopian coffee, namely, Tadesse Yonka Gamacho. Syrupy and fruity, this coffee is more than worthy to follow in Bensa's footsteps. 
Thanks for tuning into this week's extra special version of Cup of Joey!
Until next time,
-Joey Dolin, Roastery Manager
If you were set up with a recurring order for our Guatemala Highland Smallholder Blend, we will transition you straight into its new counterpart. Let us know your thoughts by using our contact page. If you'd like to manage your recurring orders, please visit the following link: https://dapperandwise.com/account/login, or email roastingstaff@dapperandwise.com.